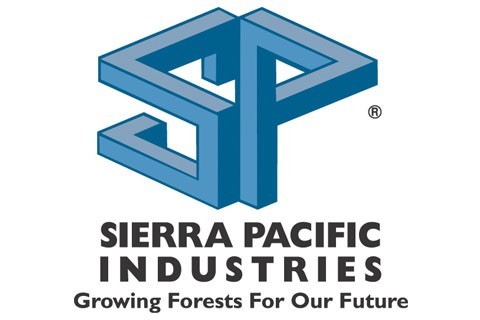 Sierra Pacific Industries

Company Description
Sierra Pacific Industries is a private corporation owned by the Emmerson family, with forest lands and manufacturing facilities in northern California, Oregon, and Washington. It was started in 1949 by A. A. (Red) Emmerson and his father R. H. (Curley) Emmerson with one sawmill employing 8 to10 people in Humboldt County, CA. Since that time, Sierra Pacific Industries has grown to be one of the top manufacturers of lumber, millwork, wood windows, and doors in North America, employing approximately 5,700 employees. It is also the largest owner of privately held industrial forest lands in the United States with over 2.3 million acres.

18 Sawmills: Located in California at Anderson, Arcata, Burney, Chinese Camp, Lincoln (2), Oroville, Quincy (2), Shasta Lake, Sonora; in Oregon at Eugene (3) and Noti; and in Washington at Aberdeen, Burlington, Shelton, and Centralia. These mills manufacture lumber, produce fiber for panel products, chips for pulp, landscape material, and hog fuel for boilers. There are also two bark plants, located in Oroville and Sonora.
2 State-of-the-Art Millwork plants: Located at Red Bluff & Richfield in Tehama County. Millwork generally consists of moulding and parts for windows and doors.
Distribution Center: Located at Richfield, it re-manufactures lumber for value-added products, such as siding, flooring, and specialty items.
Wood Window and Door plant: Assembles quality wood windows and doors in Red Bluff, CA. Windows and doors are sold throughout the western states. There is a wood window plant in Medford, WI, and a Vinyl Window Plant in Merrill, WI.
8 Electricity Co-Generation Plants: Utilizing wood waste and forest thinnings. Power is used by the mills, and excess electricity generated is sold to utility companies for much needed renewable energy in the west.
Categories
Decking

Doors

Door Frames
Jambs
Patio Doors

Fences / Railing

Flooring

Hardware, Fasteners & Accessories

Railroad Ties
Studs - Wood
Ties

Lumber

Heat Treated Lumber
Long Length Dimension Lumber
Lumber
Lumber - Softwood

Moulding / Trim

Outdoors

Landscape Material
Mulches

Siding / Roofing

Log Siding
Roof Deck, Wood
Siding
Soffit & Fascia

Timber

Window

Window
Window Frames, Wood

Wood

Beams & Timbers
Douglas Fir (Clear)
Millwork
Poles
SFI
Specialty Softwoods
To Top